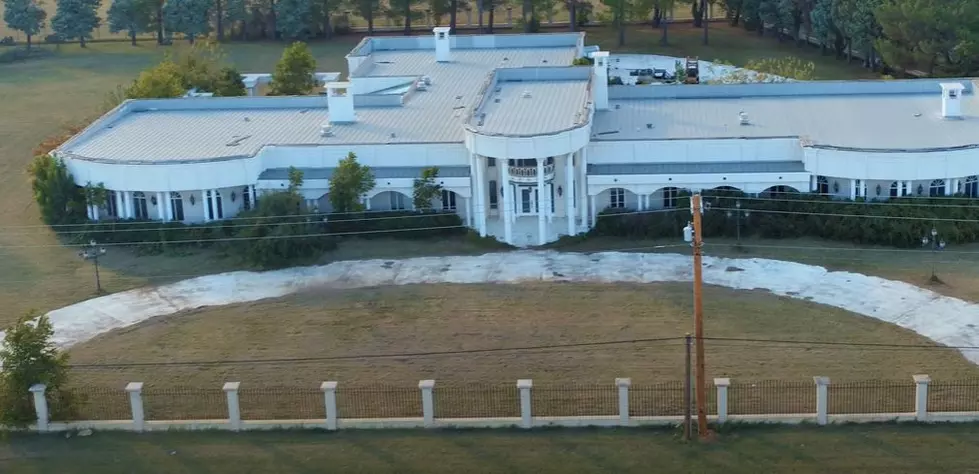 Is This Texas Abandoned Mansion One Of The Most Googled? Check Out Pics
Exploring With Project Bad Via YouTube
First off, yes this house looks like the White House! And it's probably the most googled and questioned house in West Texas! If you ever head to Abilene State Park in Abilene Texas, more than likely, you have passed this abandoned house leading to the park on Buffalo Gap Road. The house looks abandoned but has had different owners throughout the years. It is behind a gate but is clearly visible from the street. But, thanks to this awesome video from the YouTube channel, Exploring With Project Bad, we are able to tour the house.
• LET'S TOUR THE MANSION
The video states that the house is 12,000 square feet and was built in 1983 by Peter Kasimers, who was from Germany.  It is one of Abilene's most famous houses and has been referred to by many names. Many know it as the 'White House.  There is a history and story behind the house, but for this article's purpose, we will just tour it thanks to the YouTube video.
• THE MANSION'S GRAND FOYER
• LONG HALLWAY OFF THE FOYER
• THE BLUE ROOM WITH OVERSIZED FIREPLACE
• THE KITCHEN
• THE MASTER BEDROOM
MASTER BATHROOM
• THE PARLOR
• MARBLE FIREPLACE
• ONE OF THE BARS IN THE MANSION
• THE POOL AREA OUTSIDE
You would expect this mansion to have an awesome-looking pool, but of course, it has two pools. It has a pool on the outside and yes a pool on the inside. Not sure which one I like best?
• POOL NUMBER 2 UNDER GREEN HOUSE
CHECK OUT THIS AWESOME EXCLUSIVE VIDEO FROM PROJECT BAD'S NICK SUMMERS AND GET THE FULL TOUR
This video really gives a great look at the house and some insight into a little of its back story! Again, thanks to Nick Summer and his video!
A Look Inside DEAD MALL In Dallas Texas!