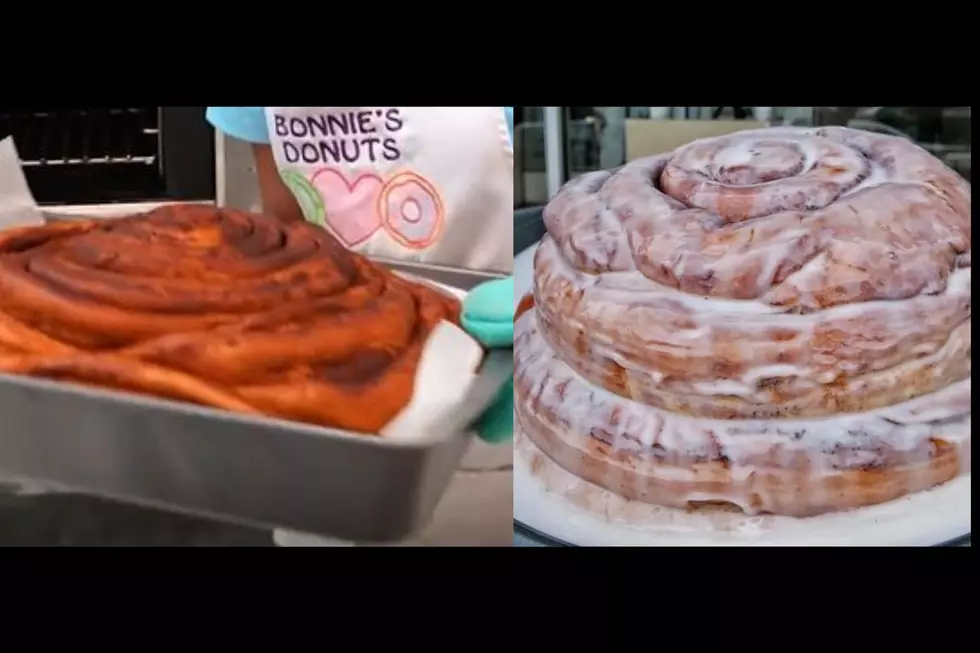 Check Out This 10 Pound Cinnamon Roll in South East Texas
Texas Eats Youtube
You know I am always looking out for fun food stories and I just found one thanks to my social feed! Bonnie's Donuts in League City, Texas is known for its 5-pound cinnamon rolls, however, they also have a massive 10-pound cinnamon roll! If you plan on ordering this massive dessert treat, Bonnie needs at least, 1 day's notice.  Check out this video that will definitely give you a sweet tooth. Check them out on Facebook.
YOU CAN STILL GET THE LULU'S CINNAMON ROLL:
While Lulu's Bakery is not coming back you can still get the 3.5 cinnamon roll again! Lulu's was part of the San Antonio food scene for more than 20 years. Thanks to the son of Lulu, Mike Behrend. his mom's famous 3-pound cinnamon rolls are now available at his other restaurant, Green Vegetarian Cuisine. You can now order your own for only 12.00 by visiting their website.
HOW ABOUT THIS FOOD CHALLENGE?
THE FOUR HORSEMEN:
It does not look like much. However, this burger has been dubbed 'the hottest burger on the planet by 'Man versus Food.' Chunky's Burgers in San Antonio offers the four horsemen challenge. This burger consists of fresh Jalapeno and Serrano peppers, a Habanero sauce, and the ghost pepper on a half pound of hamburger meat. You must sign a waiver before taking on this burger: Over 30,000 people have tried this challenge from around the world and less than 10% have completed it.  You must be 18 years old or have your parent/guardian sign for you. If you succeed, you will get your picture on the Wall of Fame and bragging rights. Take the challenge.
COMMON MISPRONOUNCED TEXAS TOWNS**UPDATED