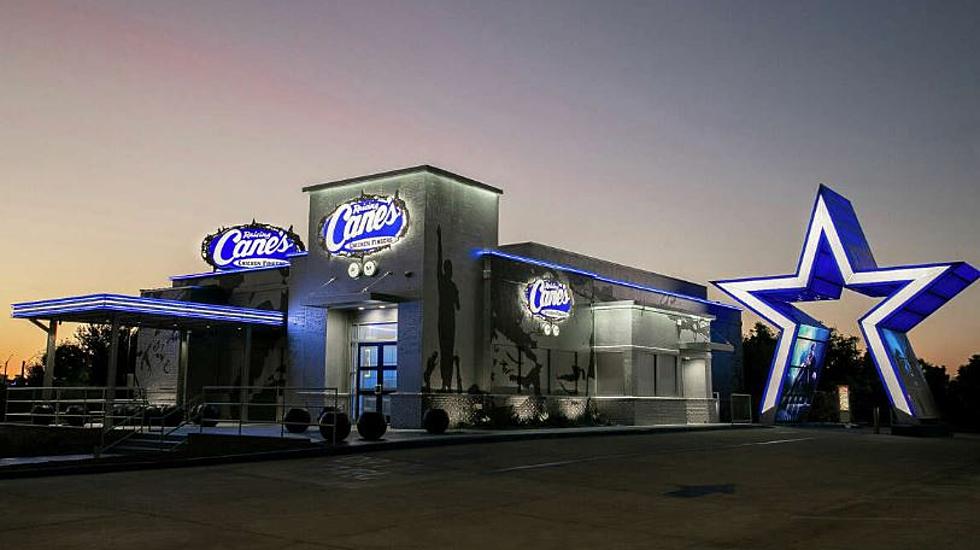 Whoa! Ultimate Dallas Cowboys-Post Malone Raising Cane's Set To Open At This Texas Location! Pics!
Hand Out/ Raising Cane's Restaurants LLC
We love us some Raising Cane's here in Texas! And , yes we love us some Dallas Cowboys! Throw ins some Post Malone and this TRIO is everything.
What happens when you combine Raising Cane's, The Dallas Cowboys and Post Malone? Yep, this is it! And, every Dallas Cowboy's FAN is going to love it!
• DALLAS COWBOYS/POST MALONE RAISING CANE'S TO OPEN IN DALLAS! 
Location: 2255 W. Northwest Hwy Dallas, Texas 75220
This Thursday, October 12th, the Dallas Cowboys/Post Malone themed Raising Cane's is set to open up in the metroplex! And, it looks AWESOME!
• COWBOYS FAN, POST MALONE, EXCITED FOR THIS STORE!
In a recent Raising Cane's press release Post Malone says....
Growing up in Dallas, I've been a fan of the Dallas Cowboys and Cane's since I was a kid, so it's an honor to be part of this collaboration with two of the greatest brands in history!

 
• THE AWESOME 32 FOOT TALL COWBOYS STAR DRIVE-THRU!
Now that's a Drive-Thru! Yes, I'll take a BOX COMBO from this Drive- thru all day! The Dallas Cowboys star is 32 feet tall. Wow! The store also feature a Post Malone mural, Cowboys lighting and a lot of Cowboys swag! The COLORS of the store say it all! Go Cowboys!
• JERRY JONES APPROVES OF THIS CANE'S!
According to the press release, Jerry Jones stated...
We're very proud to be part of this innovative new store and concept and seeing that big COWBOYS star in potion to greet everyone will be a great reminder and reflection of how much we value and celebrate our continued collaboration.
Okay, I'm ready to HIT IT UP! and Go Cowboys!
Are These The Top 5 Dallas Cowboys Man Caves?