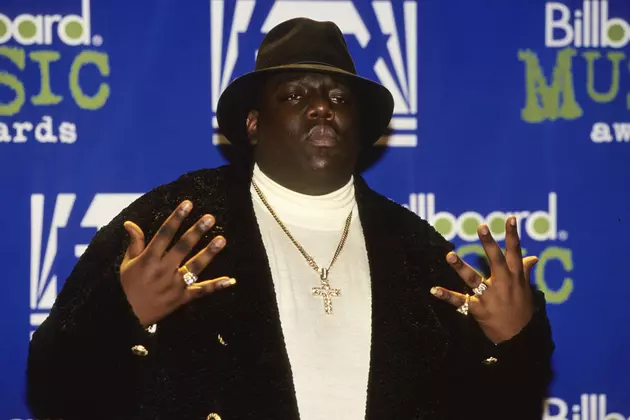 Notorious B.I.G. Gets Brooklyn Basketball Court Named After Him
L. Busacca, Getty Images
On Wednesday (Aug. 2), the family and close friends of the legendary Christopher "Notorious B.I.G." Wallace gathered once more to celebrate his life after death. New York City Councilman Robert Cornegy officially renamed the basketball courts at Crispus Attucks Playground on 1030 Fulton St., Brooklyn after the rapper.
According to the New York Daily News, Cornegy made a vow to Biggie's mother, Voletta Wallace, to honor her late son in some way in the area in which he played basketball decades ago. An earlier proposal in 2013 was turned down by other city officials, who refused to honor the rapper due to his violent past. "The feeling is surreal," Cornegy told reporters. "(His mother) changed the acronym for B.I.G. to stand for books instead of guns. We're in the process of redoing libraries providing books for young kids in school and that was her commitment."
Biggie's daughter, T'yanna Wallace, stood aside Councilman Cornegy and her father's longtime friends Lil Cease and Mister Cee as he cut the ribbon, saying, "I'm so grateful for this. I'm proud of him. We're all proud of him." Cee added, "If you were to tell Biggie that he was getting basketball courts named after him he would have laughed. He was just a funny dude, always laughing." View footage from today's event below.
The Notorious B.I.G.'s legacy has carried on well on after his tragic death. With this year being the 20th anniversary since that fatal day, Faith Evans has celebrated him, along with the rest of the Bad Boy crew, with a slew of music releases, including a video for "Legacy," featured on The King & I, the rapper's latest posthumous album in collaboration with his former wife.
See Photos of Biggie's Different Looks Over the Years