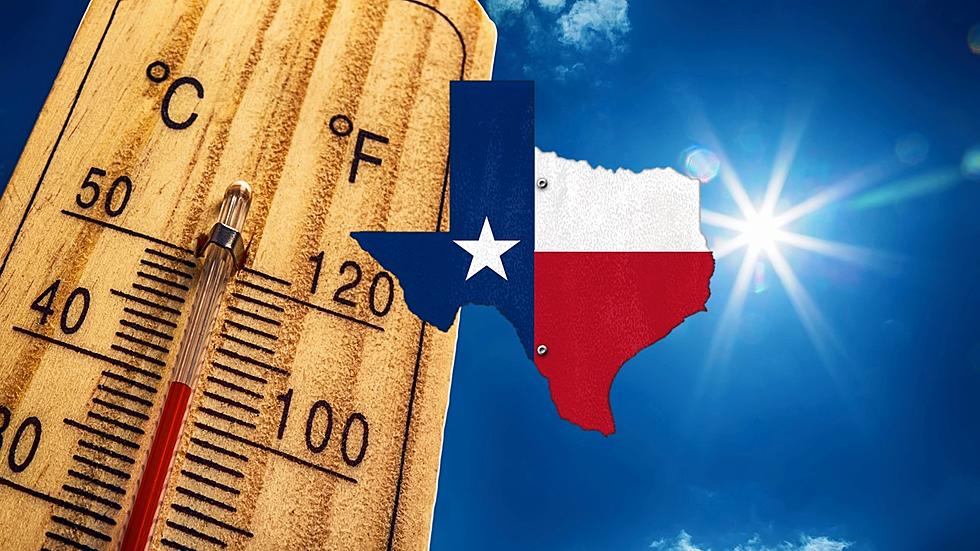 The Top 5 Hottest Days Ever In Texas And Are We about To Break Records?
RS48996_GettyImages-880826952RS16154_540761642
Summer 2023 is burning up! The Lone Star State is seeing some crazy high temps as Summer 2023 is about to kick off on June 21st. Texas is already seeing triple digits across the state and many cities and towns are breaking records. Let's look back at the 5 HOTTEST DAYS ever in Texas according to saveonenergy.com. Are we about to break some of these records this summer?
#5 DALLAS AND FORT WORTH - 113 DEGREES!
Date: June 26, June 27, 1980
Temperature 133 Degrees
#4 EL PASO AND WACO TEXAS - 114 DEGREES!
Date: June 30, 1994 and July 23, 1980
Temperature 114 Degrees
#3 MIDLAND/ODESSA, TEXAS - 116 DEGREES!
Date: June 27, 1994
Temperature 116 Degrees
#2 WICHITA FALLS, TEXAS - 117 DEGREES!
Date: June 28, 1980
Temperature 117 Degrees
#1 MONAHANS AND SEYMOUR, TEXAS - 120 DEGREES!
Date: June 28, 1994 (Monahans, Texas)
Date: August 12, 1936 (Seymour, Texas)
Temperature 120 Degrees
THE HOTTEST DAY EVER IN TEXAS WAS 120 DEGREES IN MONAHANS, TEXAS, AND IN SEYMOUR TEXAS! 
According to the National Weather Service, Monahans, Texas holds the state record for the highest maximum temperature ever noted when it reached 120 degrees Fahrenheit on June 28, 1994. Yep, that was one hot day! But it also was 120 Degrees in Seymour, Texas back in 1936.
THE HOTTEST TEXAS TEMPERATURE RECORDED RECENTLY WAS BACK IN 1994
As we gear up for some HOT temps here in Texas, we look at the hottest TEMPERATURE ever recorded here in Texas. And, yes it happened in West Texas back in 1994.
JULY - AUGUST USUALLY HAS THE HOTTEST TEMPERATURES! 
Some of the hottest days on record happened in July and August, but in 1994, the West Texas town of Monahans reached 120 degrees in June.
REMEMBER TO STAY SAFE IN THIS HOT WEATHER!!
Check Out This Man-Made TEXAS Lagoon!