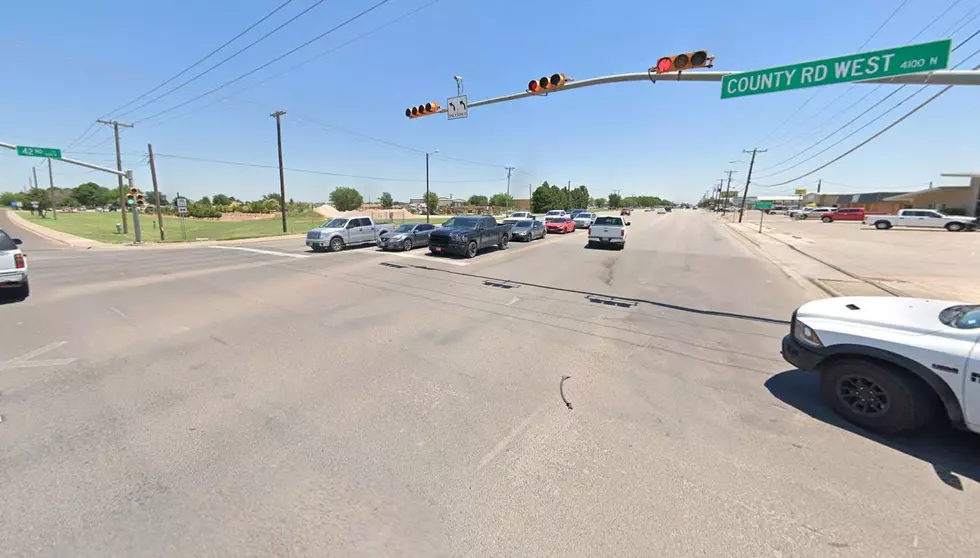 Hurry! Are These The Slowest Traffic Light Intersections in West Texas?
Google Maps
Every city has them. And, for some reason, it's always the intersection that you're at right? Recently, it was asked on Facebook what are the SLOWEST lights in West Texas. Here are some of the answers. Which intersections would you add to the list?
• 42nd & WEST COUNTY RD - ODESSA, TEXAS
Michael
42nd And WCR North/Southbound
Diamond
42nd and WCR
 • HIGHWAY 191 AND LOOP 250 - MIDLAND, TEXAS
Ray
I know they are doing the new construction and stuff but dang it took me 3 light changes to get through this intersection the other day coming off Highway 191!
• SOUTH GRANT AND POOL ROAD - ODESSA, TEXAS
Roy
South Grant and Pool Rd..
• I-20 AND STOCKTON AVE - MONAHANS, TEXAS
Cody
It would be the lights in Monahans off I-20 and Stockton Ave East side and West side when the suns going down they don't change. Or in Pecos at the exit of 285 and I-20.
•42ND AND GOLDER- ODESSA, TEXAS
Edith
42nd and Golder going south/north
•HIGHWAY 191 AND FAUDREE- ODESSA, TEXAS
David
Hwy 191 and Faudree.
Mary
I use this intersection every day and if you heading NORTH on Faudree Rd towards Highway 191, forget it. It takes so long. Expect the light to change many times before you go through it.
•SCHAUBAEUR AND A STREET -  MIDLAND, TEXAS
Laura
Scharbauer & A
•8TH AND MEADOW - ODESSA, TEXAS
Cecilia
absolutely 8th and Meadow
•INTERSTATE 20 AND 137 BY STRIPES - STANTON, TEXAS
Kristy
Stanton by stripes ‼️‼️‼️‼️😭😭😭😂
CHECK OUT MORE ANSWERS BELOW ON THE FB POST!
See how Odessa, Texas Has Changed In 15 Years - Before After Pics!