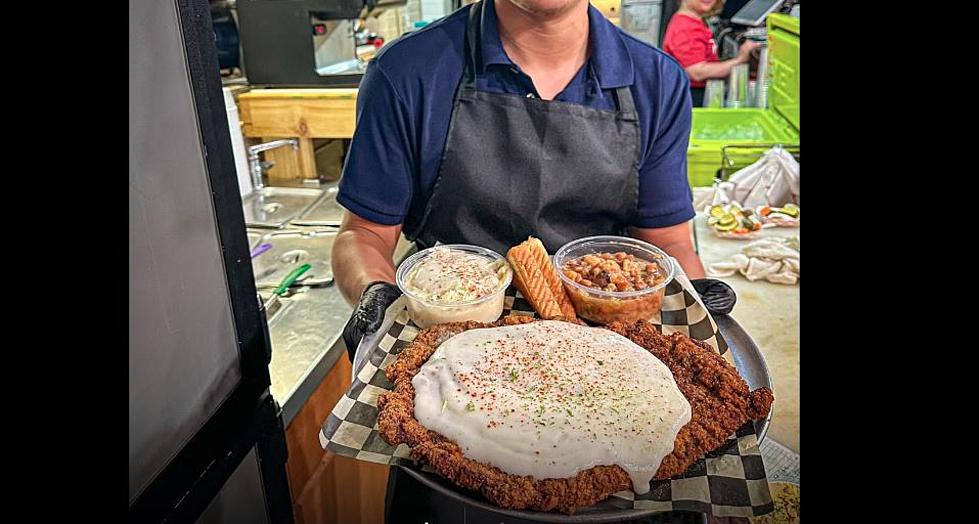 Huge! Is This The Biggest Chicken Fried Steak In Texas?
Via The Wagon Wheel Dot Com
Of course, it's Big, we are in Texas. Yes, you can find a bunch of LARGE portions here in the Lone Star State! And, here in TEXAS, we love our Chicken Fried Steak! Other than BBQ, Chicken Fried Steak is for sure a TEXAS tradition!  So, who's got the BIGGEST Chicken Fried Steak in Texas? Check this one out.
• WAGON WHEEL IN EAGLE PASS TEXAS! 
To find one of the biggest Chicken Fried Steaks in the Lone Star State you need to head to Eagle Pass, Texas. located 2 hours west of San Antonio, Texas. There, you will find the WAGON WHEEL. It's known for its BBQ but also known for the HUGE serving of Chicken Fried Steak!
Location: 1824 Del Rio Blvd, Eagle Pass, TX 78852
• THAT'S A HUGE CHICKEN FRIED STEAK! 
Wow, can you finish it all? If there was ever a PLATE to share with someone, this is the one!
• GIGANTIC CHICKEN FRIED STEAK
1.5 POUND OF MEAT!
FRESH CUT AND BREADED EVERY DAY!
AWESOME WHITE GRAVY!
@eldereats Texas-Sized Chicken-Fried Steak in Eagle Pass! . : The Wagon Wheel . Pictured: This giant chicken-fried steak weighs more than 1.5lbs and is coated in seasoned panko breading for the ultimate crunch! The meat is seasoned and tenderized before being breaded and is served with your choice of sides and as much gravy as you can handle! The award-winning bbq is FANTASTIC - the brisket is top-tier and rivals some of the best spots I've visited in the state. This family-owned business has been serving outstanding food for decades and continues to adapt and offer guests scratch-made food made with love. This is an incredible restaurant and even more incredible people. The Wagon Wheel is a must-visit Texas destination. #eldereats #fyp #foryou #eaglepass #texas #chickenfriedsteak #sanantonio #bbq ♬ Wagon Wheel - Darius Rucker
Check out this awesome video below!
Check out the Wagon Wheel website here. Do you know of any other great places in Texas that have BIG Chicken Fried Steak?
Go Inside The Munster Mansion Located Here In Texas!