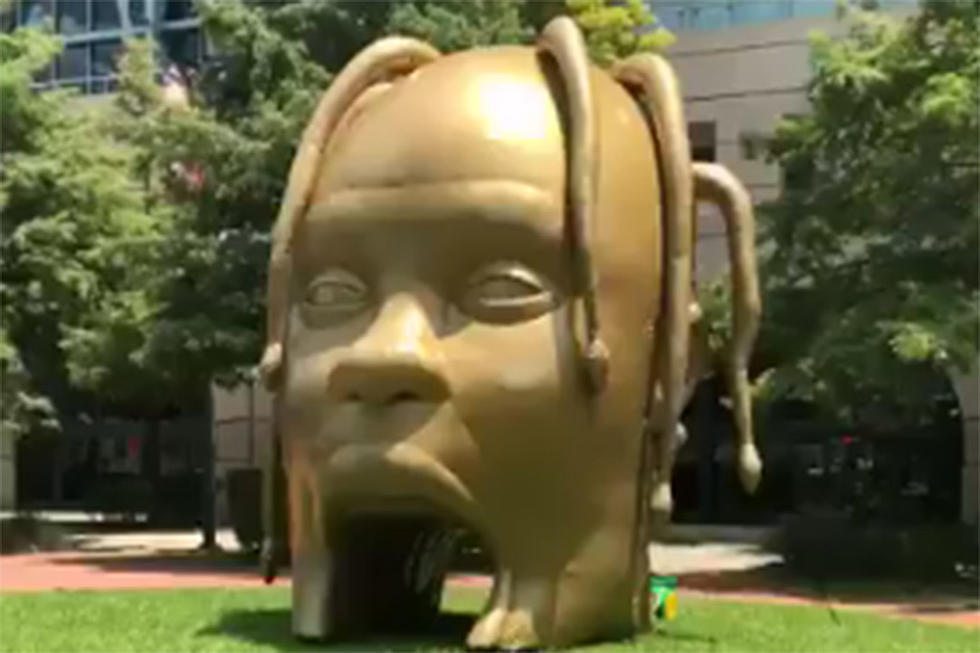 Giant Inflatable Travis Scott Heads Appear on Landmarks Nationwide
@KevoMorelli via Twitter
On Friday (July 27), the first head popped up on top of the roof of the famous Amoeba Records in Los Angeles. The inflatable head then appeared around Scott's hometown of Houston, turning up outside of Minute Maid Park where the Houston Astros play and in front of the Cactus Music store, where it reportedly remained until 10 p.m. on Monday night (July 30).
The gold head also made its way to the East Coast, appearing outside of the Hard Rock Cafe in New York City's Times Square and even found a home outside of the famous Magic City strip club in Atlanta.
La Flame shared the release date for his highly-anticipated Astroworld album on Monday, revealing the project would be dropping on Aug. 3. "#ASTROWORLD FUCKING READY TO LOOSE MY SHIT IN A COUPLE DAYS. LEGIT BLOWING ANY AND EVERY SPEAKER I CAN FIND," he tweeted. "KIDS LETS FUCKING EAT."
Scott also dropped a trailer for the album, which features a preview of the unreleased song "Stargazing."
Check out a few photos of the inflatable Travis Scott heads below.
See Fans' Choice for the Producers They Want to Hear on Travis Scott's Astroworld Album