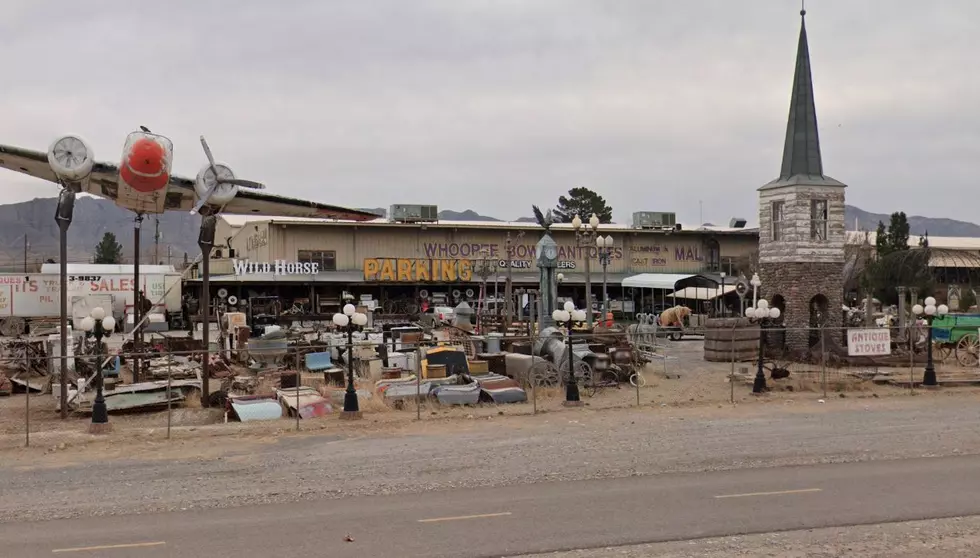 Whoopee! This Town Is Home To The LARGEST Antique Mall In Texas!
Google Maps
The shopping season is here for the Holiday Season! And, many times you need to go to different, unique places to find that one-of-a-kind gift! This may be the shopping place for you in Texas! If you are into ANTIQUES and UNIQUE items then head on over to West Texas!
• WHOOPEE BOWL IN CANUTILLO TEXAS IS THE LARGEST ANTIQUE MALL IN THE LONE STAR STATE!
Address: 9010 N Desert Blvd, Canutillo, TX, United States, Texas
Phone: (915) 886-2855
Hours: M-Sat 10a-5pm
WHOOPEE BOWL ANTIQUES is located in Canutillo Texas which is right outside of El Paso, Texas. The store is 11,000 sq feet and has an outside area as well.
• THINGS OF ALL SORTS AT THE WHOOPEE ANTIQUE MALL! 
Some people have described going to the Whoopee Antique Mall as like walking through a museum.  There are literally all sorts of crazy, curious, classic, awesome things throughout the mall.
• 40 DIFFERENT VENDORS FILL THE MALL!

About 40 different vendors are always in the mall with different items all the time! Every visit is unique visit because there may be new vendors always being added. The list of items featured at WHOOPEE ANTIQUE MALL is endless! There is stuff there that you haven't even thought of!
• OPEN THRU DECEMBER 24TH CHRISTMAS EVE! 
They are open Monday thru Saturday 10am to 5pm and will be open on Christmas Eve. Hours for Chstiams Eve will vary.
• Check Out The Video Below!
This Abandoned Texas Mall Has Been Left For Dead!
This Texas mall located in Sherman, Texas is on its last legs!