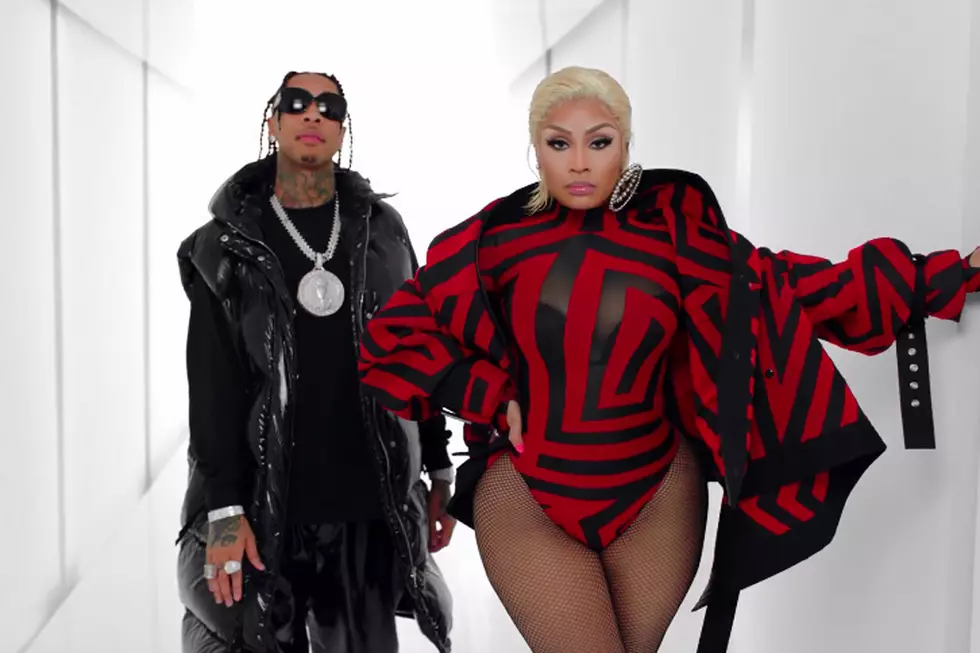 Tyga "Dip" Video Featuring Nicki Minaj: Watch Futuristic Young Money Reunion
Tyga via YouTube
Tyga and Nicki Minaj reunite. During the latest episode of her Apple Music radio show released earlier today (Oct. 29), Queen Radio, Nicki Minaj announced a remix to Tyga's "Dip," which is a track he dropped off last month. With its metallic white background and futuristic vibes, T-Raww's new visual pays homage to Micheal and Janet Jackson's iconic "Scream" video, which was released 23 years ago.
In the four-minute visual, The Pinkprint artist controls a Tyga puppet in her hands. For his part, Tyga goes through the motions of being controlled and has his world turned upside down. The Young Money rappers make a statement of less being more with the use of a white background and backup dancers.
On the D.A Doman-produced track, Tyga shows off a tight flow has he splashes on the track. "I got a black Barbie/She into menages/I'ma fuck her all night till I cum nothing/Sip got me buzzin', I am not your husband/I can be your daddy, cause I am a motherfucker," he raps.
From there, Nicki follows up and delivers some bars some people might take as a reference to their confrontation at Harper Bazaar's Icons party at New York Fashion Week last month. Showcasing some high-level wordplay, the "Barbie Tingz" rapper mentions the numerous magazine covers she's graced over the course of her career.
"All that rah, rah, rah, was never the icon issue/Harper's Bazaar, I'm covering the icon issue/I got issues, yeah bitch, I got issues/W, Vogue, Cosmo, I got issues," raps Nicki.
In addition to the release of this video, last week (Oct. 24), Tyga released his song "Shine (ZeZe Freestyle)" which features Swae Lee. As for Nicki, she is offering $100,000 to anyone who can leak the footage of Cardi B's fight during this year's New York Fashion Week.
Take a look at Tyga's "Dip (Remix)" video with Nicki Minaj below.
See Photos of Tyga's Different Looks Over the Years