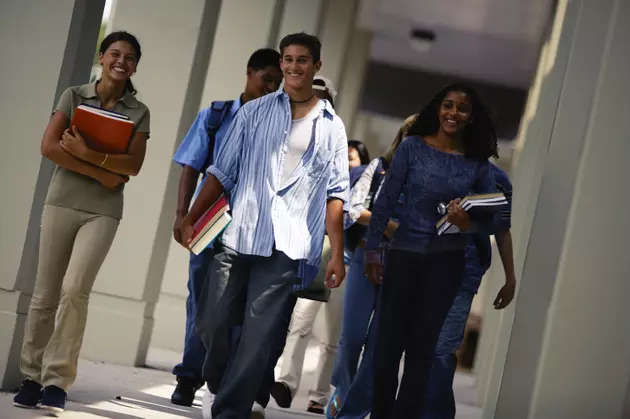 Texas School District Updated Dress Code Bans Hoodies to Work on Professionalism
Getty Images/ThinkStock
The North Texas school district states the new dress code will help students build self-esteem and work on professionalism for the workforce.
According to 12 News Now, Forney Independent School District, located just east of Dallas, announced Tuesday that they have an updated dress code that bans hoodies and dresses to help focus on future professionalism in the workplace.
The two main changes in the new dress code state this:
1. No clothing with hoods (hoodies, jackets, etc.) will be allowed in the building at all times.
2. Dresses, skirts, and skorts aren't allowed for students beyond the 4th grade.
The district published an online statement and YouTube video you can check out below:
The statement said the new dress code will help students individually as well as in their environment too.
"The use of a school dress code is established to improve student self-esteem, bridge socio-economic differences among students, and promote positive behavior, thereby enhancing school safety and improving the learning environment," said Forney ISD.
The video points out that the dress code will impact the students in their future careers giving them a strong work ethic and an emphasis on professionalism.
"Things like creativity and collaboration are so important, but what's also important are some of the foundational baseline employability skills," said Forney Superintendent Justin Terry. "We are so excited to reset this bar with you, with our parents, with our community members, with all of our business partners as we work together to take our schools, our classrooms back for the future of our kids to have a safe, enjoyable and excitable learning environment with Forney ISD," Terry said.
The Superintendent said the district will have more announcements throughout the summer.
See How School Cafeteria Meals Have Changed Over the Past 100 Years
Using government and news reports,
Stacker
has traced the history of cafeteria meals from their inception to the present day, with data from news and government reports. Read on to see how various legal acts, food trends, and budget cuts have changed what kids are getting on their trays.
15 Ways You Can Help People in Ukraine Right Now
As Americans watch events unfold in Ukraine, many wonder how they can help. Below is a list of organizations responding to the crisis in Ukraine along with information on how you can support their various missions.