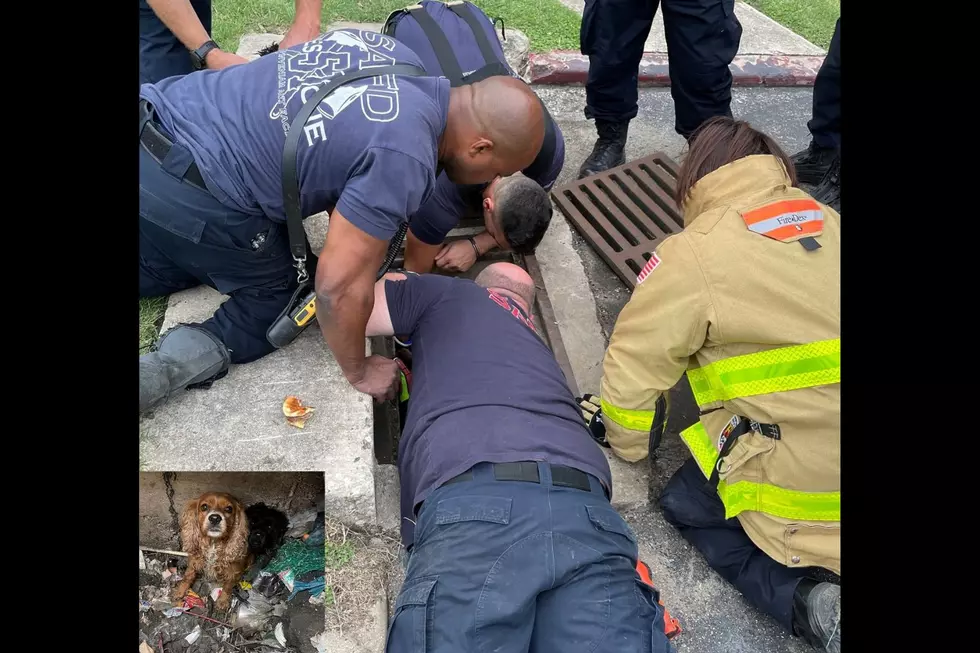 SA Fire Department Rescues 3 Puppies from Drainage Tunnel
San Antonio Fire Department
If you are a fan of fur babies this story will warm your heart. The San Antonio Fire Department was called out for rescue on Sunday.  Not to rescue a person, but three cute puppies. The photo is courtesy of the San Antonio Fire Department and you can only see two of the dogs Can you see the third puppy? According to a Facebook post by the San Antonio Fire Department:   Fire Department crews were able to acquire a dog leash from a nearby civilian, make a girth hitch out of it, and were able to get the dog's head through the leash, and pull each one out. 
According to SAFD spokesperson Woody Woodward, engine 17 and medic 17 responded to a call from the 8000 block of Country Village to help three dogs stuck in a drainage tunnel. It's unclear how the dogs ended up lodged underground or how long they were in the perilous situation, but the emergency call came in just after 6 p.m., as reported by mysanantonio.com  As of right now, the pups are in the custody of San Antonio Animal Control.
PLEASE ADOPT DON'T SHOP
If you are looking to adopt a fur baby in Victoria, our friends at the Dorothy O'Connor Pet Adoption Center have many adorable dogs and cats for adoption. If you decide to adopt at DOCPAC the adoption fee includes the dog's spay/neuter, vaccinations, heartworm test (if applicable), microchip, and deworming. You can see a full list of current dogs and cats up for adoption by clicking here.
LOOK: Here Are 30 Foods That Are Poisonous to Dogs
To prepare yourself for a potential incident, always keep your vet's phone number handy, along with an after-hours clinic you can call in an emergency. The ASPCA Animal Poison Control Center also has a hotline you can call at (888) 426-4435 for advice.
Even with all of these resources, however, the best cure for food poisoning is preventing it in the first place. To give you an idea of what human foods can be dangerous, Stacker has put together a slideshow of 30 common foods to avoid. Take a look to see if there are any that surprise you.