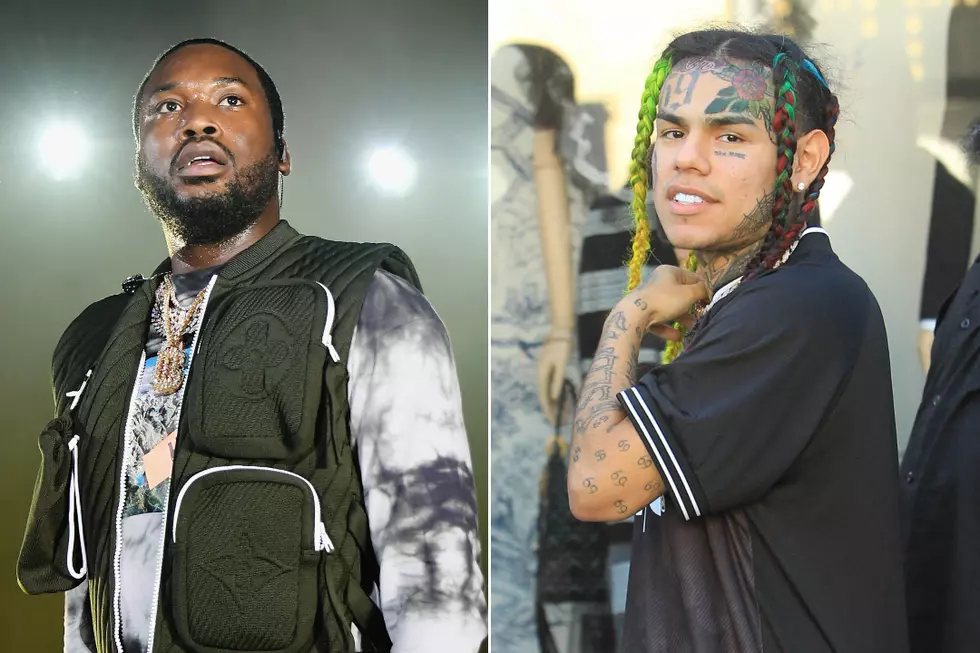 Meek Mill Calls Out 6ix9ine for Cooperating With Federal Authorities
Nicholas Hunt / SMXRF/Star Max, Getty Images (2)
While conducting the latest round of his #AskMeek Q&A session on Monday (June 10), the Philly native opened up about what he thinks of the embattled Brooklyn rapper who's currently sitting behind bars for a litany of charges. After one fan asks Meek how he really feels about the "Gummo" rapper, Meek held nothing back.
"He's a vicious kid 😰 started all that drama and start telling," Meek responded.
Meek didn't stop there, though. The lead Dreamchaser continued to elaborate on his thoughts about 6ix9ine in an Instagram comment
"What he did was wrong plain and simple.... trouble making.... clout chasing... Don't follow that path young kings be great!" Meek said in an Instagram comment.
Before he sounded off on 6ix9ine, Meek also revealed his plans to drop brand new music in the next few weeks. A fan straight up asked Meek when he plans to release new music. The rapper simply responded," A few weeks" with four purple devil emojis so they know it's real. The confirmation came days after Meek announce a special summer pack of tracks coming soon.
"I gotta get y'all a [four fire emojis] pack for the summer," the Philly wrote on his timeline. When a fan asked him where it was at, Meek replied, "I'm putting [it] together now."
Check out Meek Mill's thoughts on 6ix9ine below.
See Hip-Hop Fans Name The Most Disrespectful Diss Track of All Time