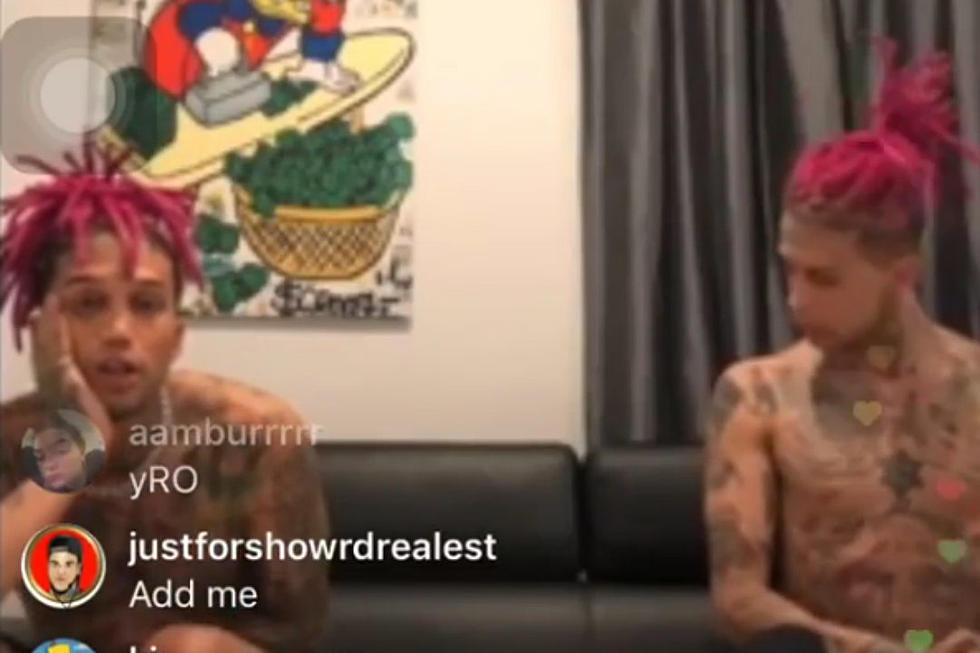 Kid Buu Hangs Out With Man He Claims Is His Clone on Instagram Live
@WorldStar via Instagram
Kid Buu has previously claimed he is a second-generation clone, but the Florida rapper recently put all his cards on the table by revealing his supposed carbon-copy to his fans via Instagram Live, on Tuesday (Oct. 23).
In the video, the shirtless pink-haired rapper sits on a couch. "Y'all talking 'bout the clone being fake. Thought I was lying about being cloned," he says into the camera. He then motions for someone to come into view. A person that looks just like the rapper then sits down on the couch next to him and removes his hoodie to reveal a chest full of similar tattoos to Buu's.
"What y'all gotta say now?" Buu adds. "You see him. We got the same tattoos. Same hair. Same genetic structure. Look at my clone."
According to Buu, his clone cost $2 million. Ski Mask The Slump God appeared to be amazed by the video and commented, "How TF Lmaoooo." Others were not as convinced, with some pointing out that Buu has an identical twin brother.
KB has been making some noise on the SoundCluoud scene via the 2018 project Blind for Love and tracks like "Dead Roses" and "Double Up." He's also made a name for his alternative views. In a video posted to his Instagram page in September, he appears to get a microchip inserted into his hand.
He isn't the first rapper in the clone conversation. Rumors circulated that Gucci Mane was a clone following his release from prison in 2016. He even addressed the rumors on Snapchat saying, "I'm hearing that Gucci is a clone. I will neither support nor deny those accusations." He later added more fuel to the fire with his "First Day Out the Feds" video, which features multiple versions of the Atlanta rapper.
Check out video of Buu's supposed clone below.
See 63 Hip-Hop Artists Who've Gone Gold in 2018