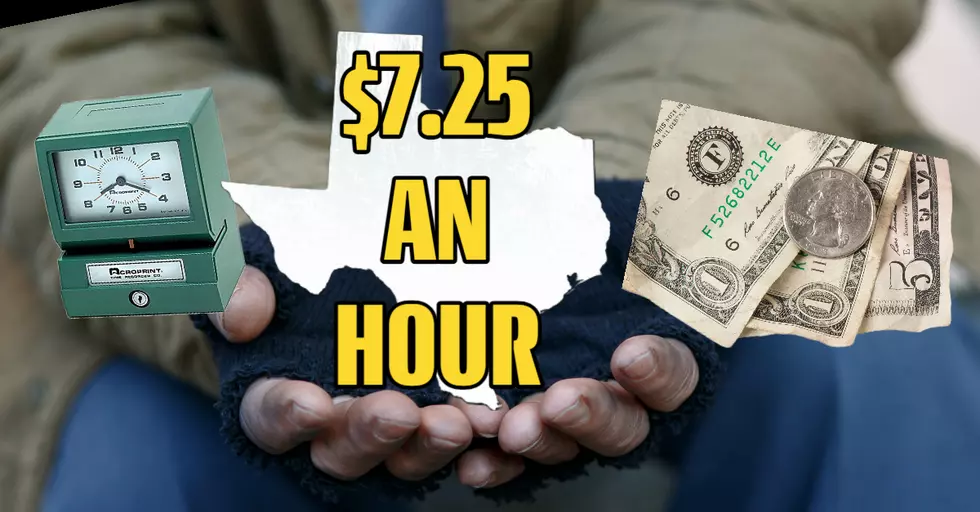 Guess Who's NOT Getting a Raise This Year In Texas
Photo: Office Depot Photo: IcemanJ Getty Images Photo: Zinkevych Getty Images
Prices are going up everywhere. Many are going to see income increases in 2023 as a result. For example, the average Social Security recipient will see an 8.7% increase in their monthly checks.
The cost-of-living adjustment considers the higher costs of everything from fuel to medicine and food. The annual inflation rate for 2022 according to the U.S. Labor Department was 7.1%
As a result in 2023, twenty-five states are raising their minimum hourly wage, with the majority taking effect on January 1st.
Texas is NOT one of them. Texas doesn't offer a penny more than the federal minimum wage, which is $7.25 an hour. This wage hasn't been raised since 2009. This is the longest the government has gone without upping the minimum wage since it was first introduced in 1938
In terms of buying power, today's minimum wage is worth less than it was in February 1956 when it was 75 cents. Someone working 40 hours a week and making minimum wage only earns about $15,000 a year. Try paying rent and utilities on that.
In fact, according to Texas A&M Professor of Economics, Jim Lee, the livable wage in Texas is close to $40,000 a year after the post-Covid inflation push.
According to the Congressional Budget Office, states, like Texas that have not increased the minimum wage have the highest rates of child poverty.
Even our neighbor New Mexico (who also legalized pot for recreational use last year, but I digress) is raising their minimum wage in 2023.  A minimum wage-earning employee in New Mexico will earn $12 an hour.
Some of Texas; biggest employers and some cities in the state have figured out that raising the minimum wage is a great idea to attract better workers and keep them longer.  Walmart, Amazon, Costco, Starbucks, Buc-ee's, Bank of America, and Chick-fil-A are all now offering starting rates in Texas ranging from $15 to $21 an hour.
It seems ironic to me that some of the same small businesses that were always bellyaching during the labor shortages post-Covid, were some of the same businesses reluctant to pay their workers a living wage.
While Texas is known as a pro-business state, many other so-called "pro-business" states have put ballot initiatives before voters to increase their state's minimum wage. Could that work in Texas?  Probably not. To get on the ballot, statewide, it would have to pass the Texas legislature by a 2/3's majority.  Not likely now.
If you get paid minimum wage in Texas, then you are as they say blank out of luck. At least, for now. Perhaps, they're hiring in New Mexico.
Beware of These 50 Jobs That Might Vanish in the Next 50 Years