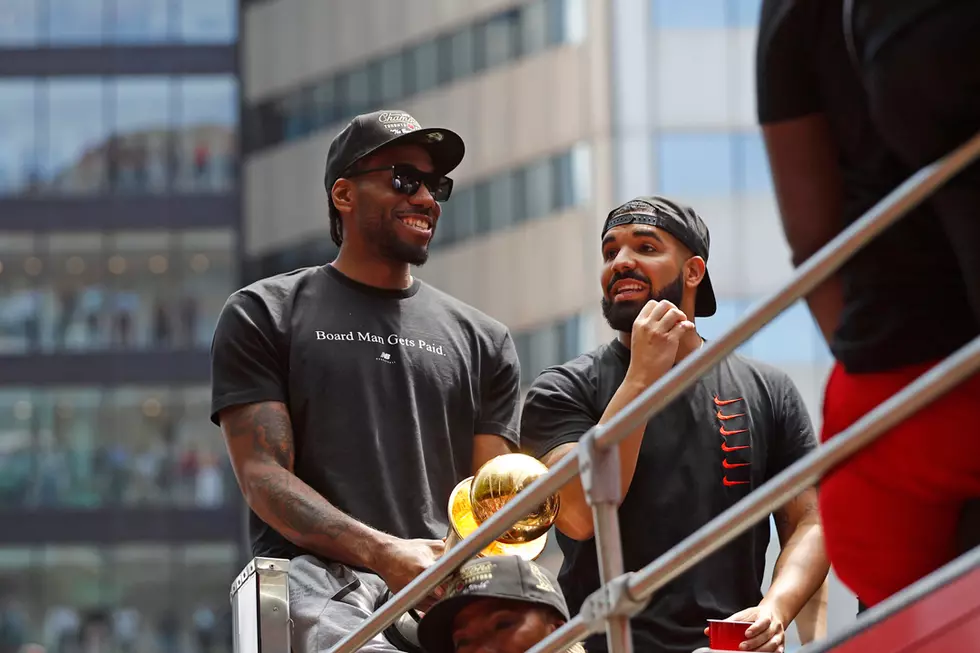 Drake Mounts a Recruiting Campaign to Keep Kawhi Leonard on the Toronto Raptors: Report
Mark Blinch, Getty Images
The 2019 NBA free agency is underway and there several basketball players who are free agents this year, including Toronto Raptors superstar Kawhi Leonard, who is reportedly mulling either re-signing with the Raptors or joining the Los Angeles Lakers or the Clippers, is one of the most coveted players on the market. Raptors' ambassador Drake is reportedly pulling out all the stops to make sure Kawhi stays in the 6.
On Tuesday (July 2), The New York Times reporter Marc Stein tweeted out some information about the state of the NBA free agency, and one of the claims was that Drizzy has launched his own recruiting campaign to convince Kawhi to stay on the Raptors.
While reports from Fox Sports Networks and ESPN have suggested that Kawhi is leaning toward signing with the Lakers and teaming up with LeBron James and Anthony Davis. But as Stein reported, Kawhi has remained quiet about his decision.
This report arrives just a few weeks removed from the end of the 2019 NBA Finals, which saw Kawhi win both the NBA championship and the Finals MVP. At the victory parade for the Raptors, Drake spoke fondly of Kawhi and the importance of the team's victory.
"I watched the interview that my brother Kawhi did the other day and they asked him what would it mean for all of us to experience this moment together," said Drake, who traveled Europe for his Assassination Vacation Tour earlier this year. "And he said, 'You gotta ask somebody that's from there.' And I just want you to look around at all of us who are from here and let them know exactly what this means tonight, because [Toronto] deserves this."
We will have to wait until July 6 to see if Kawhi stays or possibly heads west. Check out Marc Stein's tweets below.
See the 35 Best Projects of 2019 (So Far)