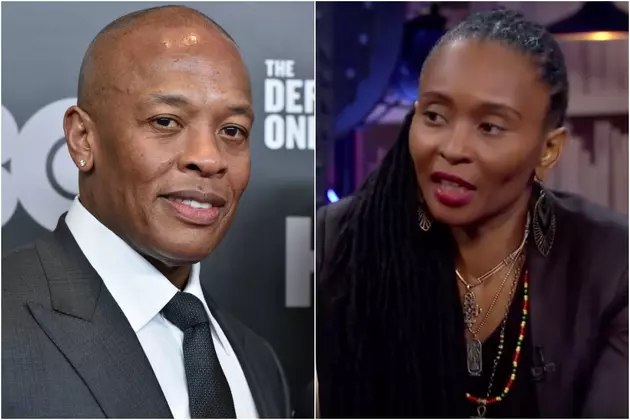 Dr. Dre Calls His Attack on Dee Barnes a Major Blemish on Who He Is as a Man
Michael Loccisano, Getty Images/HuffPost via YouTube
In Tuesday's (July 10) episode of The Defiant Ones, which is a new four-part HBO docuseries chronicling the ascendance of Dre and Jimmy Iovine, Dre touches on the matter his last film endeavor did not, calling his assault on Barnes a major stain on his character.
"Any man that puts his hands on a female is a fucking idiot," Dre says in the documentary. "He's out of his fucking mind, and I was out of my fucking mind at the time. I fucked up, I paid for it, I'm sorry for it, I apologize for it."
Barnes first recounted Dre's attack on her in an interview with Rolling Stone, where she claimed the legendary producer beat her severely as he attempted to throw her down a flight of stairs. In the years since, Dre's career was relatively unhindered, but he acknowledges the damage done to his reputation.
"I have this dark cloud that follows me," Dre says of his reputation following his attack on Barnes, before saying, "it's attached to me forever. It's a major blemish on who I am as a man."
For her part, Barnes has yet to speak out on Dre's most recent comments. On that same note, she actually didn't want her beating depicted in Straight Outta Compton. She said as much in an essay she wrote for Gawker around the time of the film's release.
"That event isn't depicted in Straight Outta Compton, but I don't think it should have been, either," she wrote at the time. "The truth is too ugly for a general audience. I didn't want to see a depiction of me getting beat up, just like I didn't want to see a depiction of Dre beating up Michel'le, his one-time girlfriend who recently summed up their relationship this way: 'I was just a quiet girlfriend who got beat on and told to sit down and shut up.'"
In that same essay, Barnes claimed she hadn't been able to move on from the incident, writing that she still suffered "horrific migraines that started only after the attack." She didn't want Straight Outta Compton depicting her beating, but she did want Dre to own up to his history of domestic violence.
Check out Dre's comments regarding his attack on Barnes, and the aftermath of said attack, in TMZ's video below.

See 40 Hip-Hop Albums Turning 20 in 2017