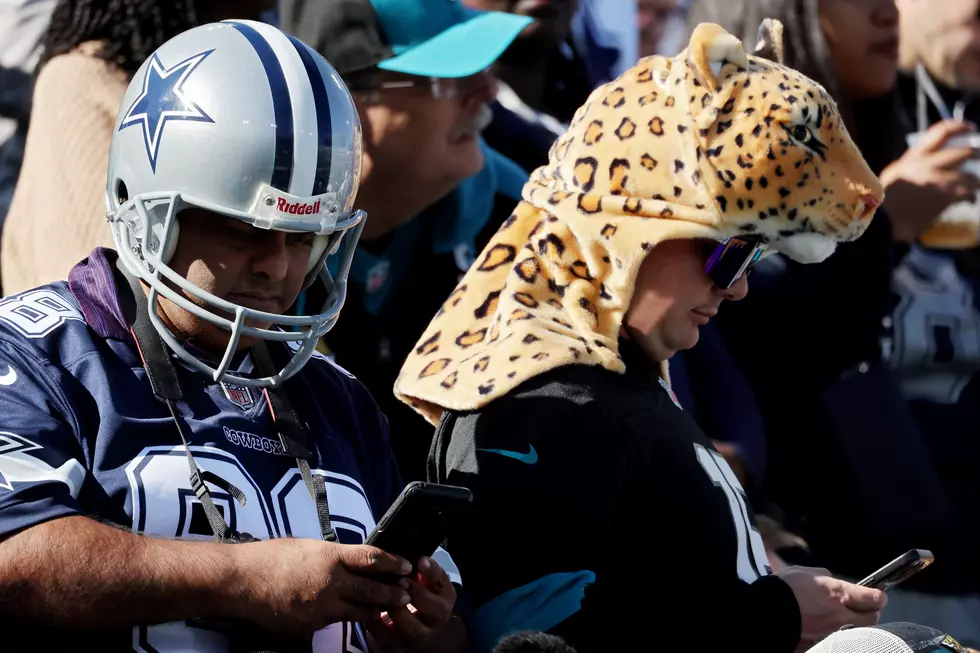 Dallas Cowboys Make Playoffs Despite Choking Against Jacksonville Jaguars
Getty Images
The Dallas Cowboys clinched a playoff birth even though they squandered a sizable lead against the Jacksonville Jaguars. How the heck did they do that? Well, keep reading.
The Dallas Cowboys had a chance to secure their spot in the 2022 playoffs and all they had to do was beat the lowly Jacksonville Jaguars and they were in. After being up 21-7 with all the momentum going their way, the Cowboys let the Jaguars own the second half.
Jacksonville eventually would tie the game up to send it to overtime where the Cowboys still had a chance to win. Only to see that win fade away as Dak Prescott threw an interception that went for a touchdown. Ouch!
SEE ALSO: Colin Cowherd Calls Out Dallas Cowboys 
The loss would keep the Cowboys out of the playoffs for the time being. But, the New York Giants and Seattle Seahawks helped Dallas get in. The Giants beat the Washington Commanders and the Seahawks beat the San Francisco 49ers.
This will be the first time the Cowboys have made the playoffs in back-to-back years since 2007.
Do the Cowboys deserve to be in the playoffs?
Honestly, I think they do. They have won 10 games and played well through most of the season. But, they sure are not doing themselves any favors by letting teams like the Texans, Colts, and Jaguars stay in games.
Although they were able to put away the Colts and Texans, this Jaguars loss was a huge blow for a team looking to gain momentum going into the playoffs.
If Dallas is going to go far into the playoffs, they have some work to do. I feel like our offense is too predictable right now and Kellen Moore is just not calling a good game. On the defensive side of things, we're just letting too many big plays happen.
Up next are the NFC East-leading Philadelphia Eagles, a game that is already causing some trash-talking. In fact, many believe the Cowboys were looking ahead to the Eagles instead of worrying about the Jaguars. Regardless, it should be one heck of a game. Go, Cowboys!
LOOK: Best Pictures of Cowboys Loss to Jaguars