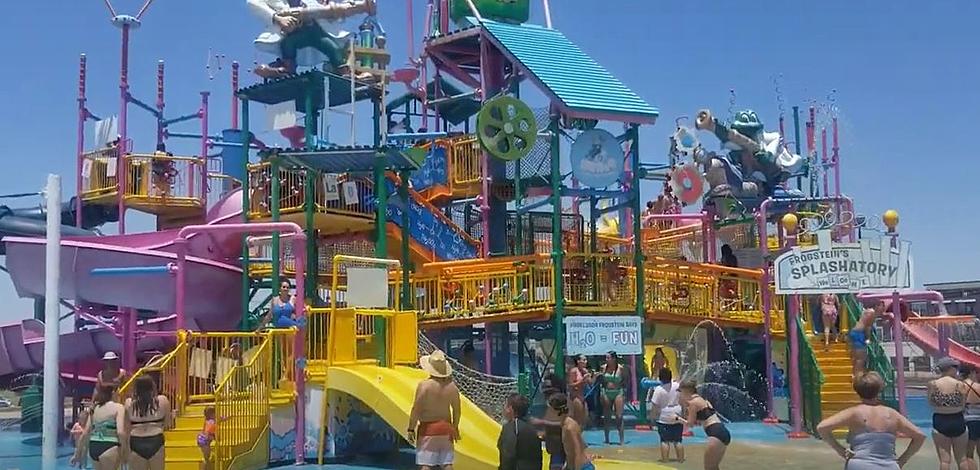 Are These The Top 10 Awesome Waterparks In Texas?
hris-Samuel-CesarX#JAGS Via YouTube
Yep, grab the swimsuits. School is just about done and SUMMER 2023 is about here and it's time to hit up the WATERPARKS here in the great State of Texas!
TRIPADVISOR has ranked the TOP 10 WATERPARKS here in Texas! Let's grab a towel, our flip-flops, and a tank top and check out the list! These are ranked by Ratings Reviews on Trip Advisor.
#10 •  PIRATES BAY WATER PARK- BAYTOWN, TEXAS
Trip Advisor Review...
Jun 2022 • Family
Wonderful fun for a reasonable price! Variety of activities. Clean and well-maintained water park. Coolers allowed! Our family had a fun time! Worth the drive from Houston..
Location: 5300 E Rd, Baytown, TX 77521
Website: Click Here
#9 •  EPIC WATERS INDOOR WATERPARK-  GRAND PRARIE, TEXAS
Trip Advisor Review...
Mar 2023 • Family
such an awesome place fire the family to go!! me and my friends had a blast and even though the slide selection was limited, the slides were amazing! there was great food, drinks, and yea!
Location: 2970 Epic Place, Grand Prairie, TX 75052
Website: CLICK HERE
#8 •  SIX FLAGS HURRICANE HARBOR -ARLINGTON TEXAS
Trip Advisor Review...
When I went to Hurricane Harbor yesterday it was really fun and the rides were awesome! I loved going on tsunami surge and the person who pushed my father and I down was so kind. He made jokes and it made my whole experience even better!
Location: 1800 E Lamar Blvd, Arlington, TX 76006
Website: Click Here
#7 •  AQUATIC SAN ANTONIO TEXAS
Trip Advisor Review...
>Aug 2022
<
The only problem was the weather, other than that it was an incredible experience ever. Riding rides I've never thought I would ever ride,was amazing! My husband and I are most definitely going back. Don't forget the lazy river when you visit!
Location: 10500 SeaWorld Dr, San Antonio, TX 78251
Website CLICK HERE
#6 •  NRH20 FAMILY WATER PARK- RICHLAND, TEXAS
Trip Advisor Review...
>Jun 2021 • Family
We enjoyed our day at the park. Friendly staff and great place for families with younger children. Park is just the right size! Affordable and clean. Will definitely be back!
Location: 9001 26 Blvd, North Richland Hills, TX 76180
Website: Click Here
#5 •  SPLASHWAY  WATER PARK- SHERIDAN, TEXAS
Trip Advisor Review...
Jul 2022
We visited this waterpark in July and had a blast! The park itself is a bit out of the way, but the parking was easy and it wasn't as crowded as the waterparks closer to the city. The water and facilities were clean, the slides were well-maintained and the food choices were surprisingly good
Location:  5211 Main St, Sheridan, TX 77475
Website: Click Here
#4 •  GREAT WOLF LODGE WATERPARK- GRAPEVINE, TEXAS
Trip Advisore Review...
>Dec 2022
<
Treated my Grandkids to this place and they and their parents had a great time. It's HUGE! Lots to do and a wide variety of water activities.
Location: 100 Great Wolf Dr, Grapevine, TX 76051
Website: Click Here
#3 •  SCHLITTERBAHN GALVESTON ISLAND- GALVESTON, TEXAS
Trip Advisor Review...
Jun 2021
We took the family to the water park and had a great time! Lazy river, water slides, beaches!!!
I like the fact that the park lets you bring your own ice chest with food and non alcoholic drinks. This saves families a lot of money!
Also, we rented a cabana and had our own server that would bring us whatever we needed, ie, food, drinks, etc!
Location:  2109 Gene Lucas Blvd, Galveston, TX 77554
Website: CLICK HERE
#2 •  SCHLITERBAHN WATERPARK- NEW BRAUNFELS, TEXAS
Trip Advisor Review...
Jul 2022 • Family
One of the best water parks we have visited. Unique rides unlike others. There are two parks, east and west. East was our favorite. It has newer rides. The rides in the west park tend to scrape your butt too much. The heated pools with swim up bars are excellent.
Location: 400 N Liberty Ave, New Braunfels, TX 78130
Website: CLICK HERE
#1 •  SIX FLAGS FIESTA TEXAS- SAN ANTONIO, TEXAS
Located: San Antonio, TX 78257
WEBSITE: Click Here
Trip Advisor Review:..
>Apr 2023
Six Flags was absolutely awesome! They definitly deserve some credit for being such a great amusement park! My personal favorite ride is Goliath.
Check Out These Awesome Videos!
https://www.youtube.com/watch?v=Lz3cMTguV0I
The Blue Hole Lake - See The Most Unique Lake In Texas!