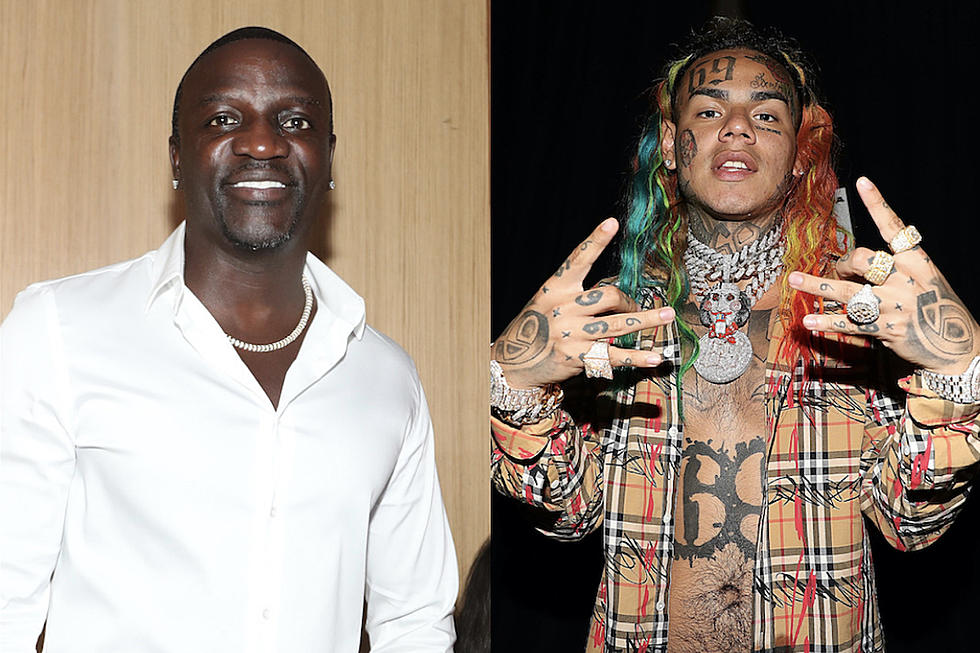 Akon Defends 6ix9ine for Snitching, Wants to Make Music With Him
Jerritt Clark / Shareif Ziyadat, Getty Images (2)
During an Instagram Live conversation with DJ Whoo Kid on Thursday (April 15), Akon said that he wants to hop on a track with the rapper, who is serving the remainder of his prison sentence at home due to the coronavirus pandemic.
"I'ma feature on that record," Akon began, after Whoo Kid asked if he would download 6ix9ine's album once it's released. "Matter fact, I'm about to call Tekashi right now and say yo, T, what we doin'? I'm 'bout to get on that record. Listen, I'm me, nigga. You can't beat me up. I'm getting on that record. That record probably be the hottest record that drop this year because of all that…Just think about all that surrounded this record. Even if you don't like him. You gon' get it, download it, out of curiosity."
Akon, who was supposed to appear on 6ix9ine's Dummy Boy album, went on to come to Tekashi's defense saying, "But believe me, Tekashi got my support." This, however, isn't the first time that the Senegalese rapper has backed 6ix9ine. Akon shared his thoughts on the rapper's legal woes back in November 2019, where he said he respects the decision Tekashi made.
"That's why I'm not so quick to judge him because I don't know exactly what's happening behind closed doors that may not be explained or maybe out to the public to know," Akon, explained. "But as a man, you can only respect somebody that does what they think is best for them and their families. But at the same time you also got to know who you are doing business with if you are going to do something illegal."
Now that 6ix9ine is home, the rapper is said to be working on two new albums. Maybe Akon and Tekashi will cook up something for one of the Brooklyn's rapper new projects.
Akon reveals he wants to work with 6ix9ine around the 6-minute mark. Check out the video below.
See 15 Rappers With the Best Gimmicks of All Time