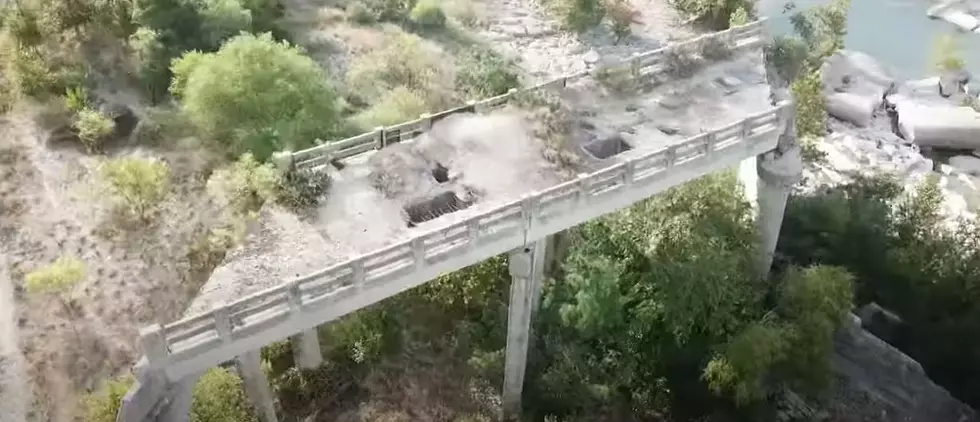 5 Dangerous Texas Bridges That Have Collapsed And Been Abandoned!
Beyond Civilization (Xplore RC) Via YouTube
The last thing you want to do is get on a collapsed bridge. Whether it has collapsed at the middle portion of the bridge or somewhere at the end, a collapsed bridge is not good. Whether it was due to time, weather, or catastrophic event, bridges sometimes don't last forever. Some bridges are repaired, and some are abandoned and left to rot. We have found some bridges here in Texas that you definitely want to do a U-Turn on and don't get on! Thing is, most of these bridges are only reachable thru drones nowadays!
#1 • LAVACA BAY CAUSEWAY (Original) - Port Lavaca, Texas
Initially built in 1931, the bridge was damaged in 1942 and 1945 by hurricanes, repaired but destroyed by Hurricane Carla in 1961.
Location: Port Lavaca, Texas 77979
In 1961, the New Lavaca Bay Causeway began construction on the new bridge.
#2 • HIGHWAY 96 - EVADALE, TEXAS
#3 • BROKEN BRIDGE NUECES RIVER
Known as 'Broken Bridge,' it is an abandoned portion of Highway 83 in Texas.
The bridge was destroyed in 1935.
#4 • ABANDONED TRAIN BRIDGE RUINS - ROCKLAND, TEXAS
This railroad bridge was built in 1899 and abandoned around 1996. The abandoned bridge goes thru a layer of trees before hitting the water.
#5 • ABANDONED RAILROAD AT WALLACEVILLE- NEAR HOUSTON, TEXAS
This abandoned railway bridge can be seen off Fm 1093 and Brazos River..
CHECK OUT THE VIDEO OF THESE BRIDGES BELOW!
This Abandoned Texas Mall Has Been Left For Dead!
This Texas mall located in Sherman, Texas is on its last legs!