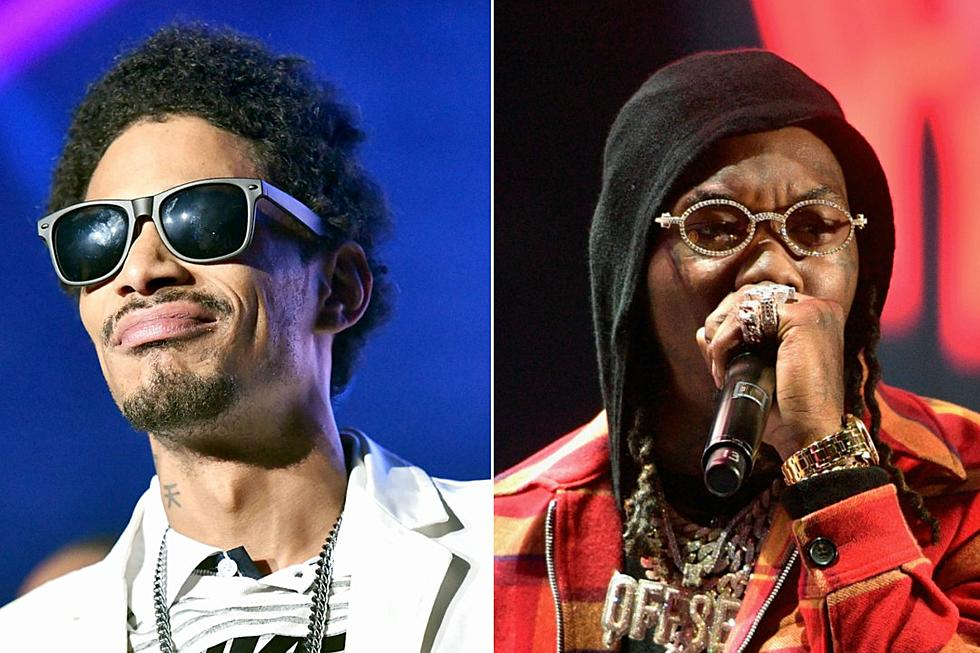 Offset and Layzie Bone Go at Each Other Over Biggest Group Ever Claims
Scott Dudelson / Matt Winkelmeyer , Getty Images (2)
On Tuesday (Dec. 18), the Cleveland rapper continued to dispute Offset's claim that Migos are the "biggest group in the world" by jumping onto Instagram and uploading a video in which Quality Control CEO Pierre "Pee" Thomas claims Migos' Takeoff reminded him of Bone Thugs when he discovered him, Later on, Offset, who made the claim about Migos being the biggest group ever in the group's Winter 2018 XXL Magazine cover story, saw the video and left a brief comment: "Let's have a bankroll challenge."
"@offsetyrn naw nigga, that's what's wrong with y'all niggaz," Layzie Bone replied to Offset. "Y'all think money equals respect IT DOESN'T this is SKILLS CHALLENGE me against you my group against yours. Best group ever challenge get yow bars up youngin. You gone need that bread for early retirement Boy."
Layzie Bone didn't stop there. He continued to go in on the group as a whole by reposting what he feels are unflattering freestyle videos of Quavo, Offset and Takeoff on his Instagram account. He also posted a series of memes indicating his stance on the situation. In one post, Layzie refers to the "Stir Fry" rappers as garbage that needs to be taken out and issues a heated warning in another.
"Nigga want it with me," Layzie said in his caption. "Talking bout what I ain't got. I don't want yow money don't need yow money Boy!!!! The spot you claimed is what I want. You thought you was dripping but imma squeeze til you Bone Dry. Boa constrictor flow🔥🔥🔥🔥🔥🔥 #teambone"
With all the debates about the biggest groups in existence and the king of R&B making rounds around the Internet, Layzie Bone decided to get in front of the camera to address his final stance on who can claim to be the biggest group in hip-hop. While he names other OG rappers who has the right to make the claim, Layzie Bone asserts that he, Wish, Flesh, Krayzie and Bizzy make up the biggest and best group ever.
Despite all the backlash from the Bone Thugs rapper and his fanbase, the Quality Control crew doesn't seem to be fazed by any of it. Before deactivating his Instagram account, Pee posted a brief message to his IG stories that seemingly throws shade on the entire situation.
"Let the young niggas live challenge," Pee wrote.
Watch what Layzie Bone, Offset and Pee have to say below.
See Photos of Migos' Different Looks Over the Years