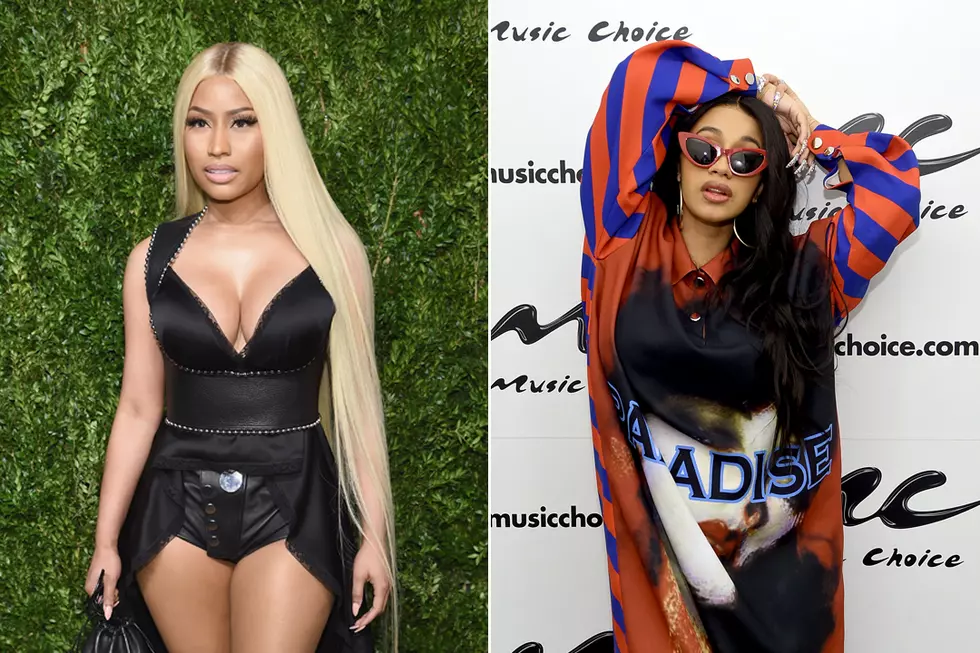 Why Nicki Minaj and Cardi B's Rift Is History Repeating Itself
Dimitrios Kambouris / Jamie McCarthy, Getty Images (2)
"Two MCs can't occupy the same space at the same time. It's against the law of physics" —Lauryn Hill
On Sunday night (April 15), Cardi B delivered what appeared to be the performance of her life at 2018 Coachella. In her Left Eye-inspired all-white ensemble, a very pregnant Cardi gyrated and twerked to singles and album cuts from her recently released debut LP, Invasion of Privacy. Impressively, fans knew the words to both evenly, though after her performance social media swelled with banter that Nicki Minaj had now been forgotten.
Earlier that week, Nicki double-debuted two singles—"Barbie Tingz" and "Chun-Li"—which had her Barbie fan base insisting on the same sentiment about Cardi B despite her album releasing only days prior. Nicki's singles broke the iTunes Top 10; Cardi B has the No. 1 album in the U.S. They're seemingly coexisting, yet the hive mind still rules that there can only be one. But why?
You can travel down the long rabbit hole of Nicki's relationship with Cardi. You can analyze song lyrics, read through tweets. It will all shift pendulum-style after each player's chess move, but to entertain the timeline, here are the most recent updates:
Cardi B drops her album, Invasion of Privacy (April 6)
Nicki Minaj releases her new single cover art for "Barbie Tingz" and "Chun-L" on Instagram (April 10)
A rumored Nicki single titled "Half Back" leaks with the couplet: "I ain't never played a ho's position/I ain't ever have to strip to get the pole position." The internet presumes it's directed toward Cardi (April 11)
Nicki appears on Zane Lowe's Beats 1 Radio show and fights back tears as she discusses the "Motorsport" debacle with Cardi and how she can't understand Cardi's resistance to praising her as a predecessor. She also debuts the two singles on his show (April 12)
Cardi tweets, "I'm not getting involved with the hype" (April 14)
That's about all you need to know pre-Coachella to understand that friction is still present. Two women are winning in hip-hop amongst many others. However, these are the two women simultaneously at the top—a phenomenon that's still difficult to fathom, given hip-hop's history. Conditioned by that history, the reactionary moves by the artists involved are merely a symptom of their environment.
It's a familiar story, especially for a key player who's seen both sides of the game. When Nicki Minaj surfaced in 2008, promo ads for her Sucka Free mixtape depicted her in the same squatting position that helped make Lil' Kim's Hard Core album artwork legendary in 1996. At first it was rooted in homage, though Nicki's speedy success ultimately rubbed Kim the wrong way—especially once she adopted the "Barbie" moniker, a movement Kim started back in 2003, when she coined the phrase "Black Barbie" on her hit single "The Jump Off."
Rumors circulated that Nicki's early manager Big Fendi was purposely molding her into the next Lil' Kim (an accusation further fortified by Waka Flocka Flame's momager Deb Antney). When Birdman recruited both Kim and Nicki for the track "Grindin Makin Money," Kim wasn't made aware of it at first, yet agreed with a slight lyrical jab tacked on: "There'll never be another me/What you out your mind?" The beef intensified. Nicki came for Kim; Kim came for Nicki. Eventually Kim became managed by Fendi, and released her own answer to Nicki's Pink Friday via a scathing track titled "Black Friday."
The imbalance here though was evident: While legendary, Lil' Kim's active career was running dormant while Nicki's was on the upswing. It left room for a level of unfair competition, though that competition should have never happened to begin with. Both have had their fair share (both past and present) of being pitted against another female artist: Lil' Kim back in 1996 with Foxy Brown (which cost us their potentially epic Thelma & Louise project), and even Nicki's recent squabble with Remy Ma, where Nicki's only real ammo remained that Remy didn't have as many hits under her belt.
But in the case of Nicki Minaj and Lil' Kim specifically, the key argument was Nicki's resistance to truly honoring her OG. Kim's solo debut was 12 years Nicki's senior. Even now, receipts surfaced challenging Nicki's "Chun-Li" cover, as it suspiciously resembles an old Kim promo shot in which she's decked in a similar Fendi outfit. While Nicki emphasized how she'd praised and honored Kim early on, she questioned how long that gratitude should last. She's now feeling that effect on the other side of the game. Fans have argued that Cardi has praised Nicki, with tweets to prove her loyalty once her single "Bodak Yellow" reached No. 1 (Cardi's tweet was a response to Nicki congratulating her). It didn't feel like enough for Nicki. Sound familiar?
History continued to play on loop when Cardi was added to Migos' "Motorsport." Nicki reportedly signed off on the feature before adding what some might perceive as a subtle jab, "If Cardi B the QB/I'm Nick Lombardi"—likening herself to a legendary coach with Cardi as her on-field general. The line was later altered to omit Cardi's name—a request Nicki says came from Cardi's label, Atlantic Records—but even if the line wasn't meant disrespectfully, it speaks to Nicki's superiority, as her tenure in the game is 10 times that of Cardi's.
But if the argument in Lil' Kim's favor stands that a then 12-year solo career (in 2008) gave Kim the stamp of legend and she should be honored accordingly, then isn't Nicki now in that bracket with a decade under her belt? If Kim demanded pomp and circumstance, then why can't Nicki do the same, regardless of how she handled it as a rookie? Maybe it was all cyclical, and she finally understands it now. Maybe the stakes are higher since she and Cardi are competing for the same slot, whereas Kim had already enjoyed her moment. Maybe despite the influx of female rap talent, we are all still wired to believe that only one can be the best. Maybe when Nicki releases her album and Remy Ma releases hers, we can all witness a trifecta of successful works by women who are competing side by side with men in now the most powerful genre in music. Maybe it's time to break the cycle of history.
When the Roxanne wars emerged in the late 1980s, it came down to two women who shared the same name (Roxanne Shanté and The Real Roxanne), a male-constructed device to prove that one Roxanne had to be boxed out. Our female rap heroes aren't all bearing the same name, yet the showdown for the one coveted spot remains in tact as it has for three decades. Perhaps until now.
See Photos of Nicki Minaj's Different Looks Over the Years