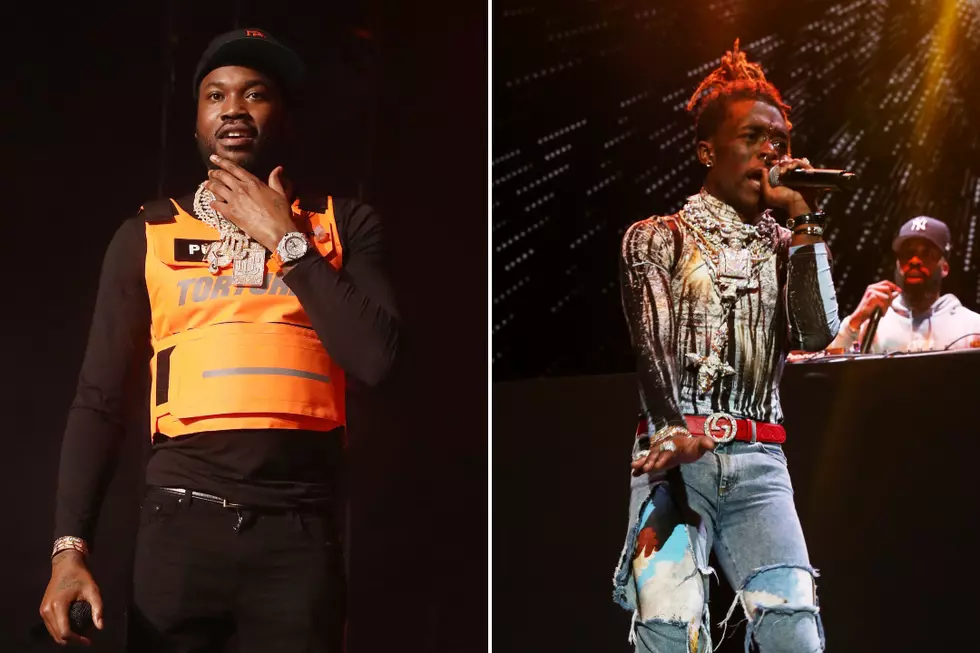 Meek Mill Brings Out Lil Uzi Vert for "XO Tour Lif3" Performance: Watch
Bennett Raglin / Taylor Hill , Getty Images (2)
Meek Mill invaded New York City for the latest stop on The Motivation Tour, and he managed to convince Lil Uzi Vert to ride with him.
Last night (March 12), the MMG rapper brought his headlining concert featuring opening acts Melii, Kash Doll and Lil Durk to the Big Apple's Hammerstein Ballroom. After bringing out Fabolous to perform "Uptown Vibes" off his Championships album, Meek then shocked the crowd by having Uzi pull up on stage.
The Philly rapper put his retirement on hold (again) to perform his hit song "XO Tour Lif3." Uzi hung around on stage for a bit and performed other songs like "New Patek." Uzi was one of several guests that Meek brought including Dave East and Yo Gotti.
The Motivation Tour has been full of surprises, from Drake's special appearance to the proclamation of Meek Mill Day in Houston. Uzi's surprise performance comes shortly after he played some unreleased music for his fans on Instagram Live last night. The former XXL Freshman went live from the backseat of his car and played the unreleased track.
"These niggas broke boys, watch this, watch this/I can make the whole crowd moshpit," Uzi spits as the song booms from the car's speakers.
Lil Uzi Vert didn't perform the song at Meek's show, but hopefully he'll perform it soon.
Check out the moment Meek Mill brought out Uzi below.
See Behind-the-Scenes Photos of Lil Uzi Vert at the 2016 XXL Freshman Shoot