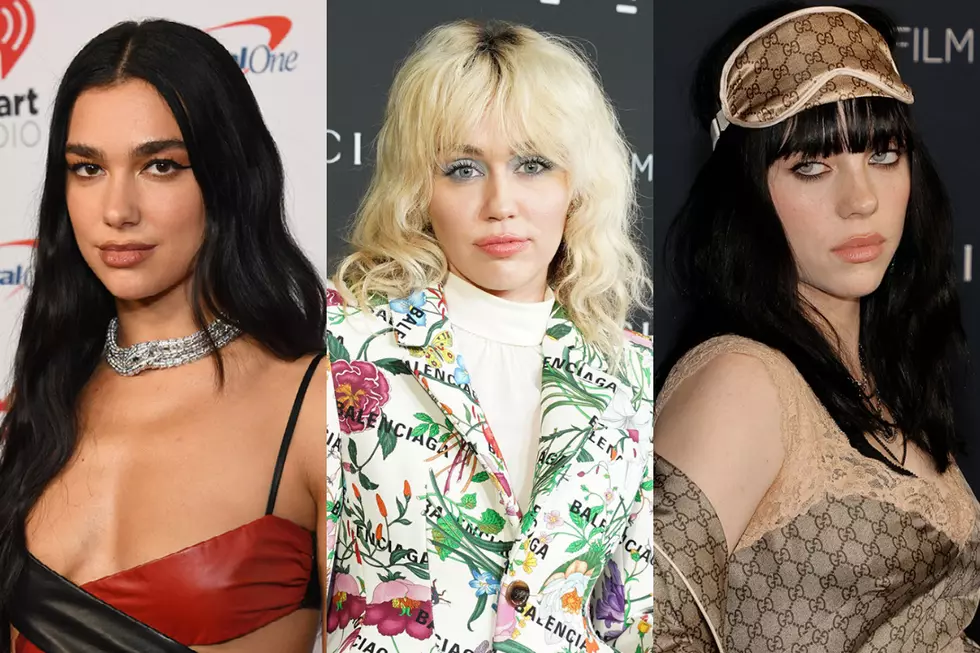 These Are the Hip-Hop Songs Named After Rappers' Favorite Pop Stars
Jon Kopaloff/Presley Ann/
Through the years, as hip-hop has become such an undeniable staple in pop music, it's hard to tell where the rap game starts and pop culture begins. With the lines being blurred more than ever, hip-hop holds a major influence over pop music but that same impact frequently swings the other way as well. That much is evident when it comes to the many times rappers choose to title their tracks after stars within the pop realm.
Naming rap songs after pop music stars only makes sense. Pop stars are some of the most recognizable names worldwide, so it doesn't come as much of a surprise that song titles including the names of such notable figures often obtain a certain rate of success. Rae Sremmurd's multiplatinum 2016 smash, "Black Beatles," reached No. 1 on the Billboard Hot 100 singles chart, and in 2022, Armani White's "Billie Eilish" was listed as one of the year's biggest songs on TikTok.
While rappers have been referencing these popular figures within song titles for years through tracks like Yo Gotti's 2015 song, "Rihanna" featuring Young Thug, and 2016's "Hannah Montana" by Migos, the move has become even trendier recently. In 2022 alone, Nas and Hit-Boy used Michael Jackson's name in the title of "Michael & Quincy," their lead single from King's Disease III while $not's "Doja" featuring A$AP Rocky has raked in over 56 million streams on Spotify.
Tracks named after pop stars have not only been successful in things like record sales and chart positions, but some rappers who do so have also experienced a few added benefits as a result. Just months after the song "Dua Lipa" appeared on Jack Harlow's 2022 album, Come Home the Kids Miss You, the Kentucky spitter is now rumored to be dating the real Dua Lipa. In a similar fashion, Drake landed himself a passionate smooch from Madonna after he named a track after the legendary singer on 2015's If You're Reading This It's Too Late.
With all that in mind, XXL highlights many instances in which hip-hop songs were named after pop stars. Check out the list below.
Migos' "Hannah Montana"

Named after: Miley Cyrus' Disney Character, Hannah Montana

Jack Harlow's "Dua Lipa"

Named after: Dua Lipa

French Montana's "Miley Cyrus" featuring Future

Named after: Miley Cyrus

Central Cee's "Doja"

Named after: Doja Cat

$not's "Doja" featuring A$AP Rocky

Named after: Doja Cat

Armani White's "Billie Eilish"

Named after: Billie Eilish

Nas and Hit-Boy's "Michael & Quincy"

Named after: Michael Jackson and Quincy Jones

Lil B's "Justin Bieber"

Named after: Justin Bieber

Yo Gotti's "Rihanna" featuring Young Thug

Named after: Rihanna

Drake "Girls Love Beyoncé" featuring James Fauntleroy

Named after: Beyoncé

Drake's "Madonna"

Named after: Madonna

Yella Beezy's "Stevie Wonder"

Named after: Stevie Wonder

Chiddy Bang's "Ray Charles"

Named after: Ray Charles

Rae Sremmurd's "Black Beatles"

Named after: The Beatles

Big Sean's "Marvin & Chardonnay"

Named after: Marvin Gaye

Nelly's "Rick James" featuring T.I.

Named after: Rick James